Doctor Murray Matangi (EUD ID : 32405)
Kingston Heart Clinic
Cardiology Dept.
460 Princess Street
K7L 1C2 - Kingston Canada
Phone : +1 6135443242 - Fax : +1 6135464487
Email :

This email address is being protected from spambots. You need JavaScript enabled to view it.
| | |
| --- | --- |
|   | Agreement Form sent on 25/01/2014 09:39 |
|   | The author agrees to transfer copyright to the ESC. |
| Title : | ICEBERG, cardiovascular outcomes data according to a baseline carotid ultrasound in 1,449 patients |
| Topic : | 01.08 - Atherosclerosis/CAD (Prevention & Epidemiology) |
| Acronym : | Initial Carotid Evaluation Before Echocardiography Reveals Global risk |
| Category : | Not Member of EACPR |
| Option : | No Options |
DW. Armstrong1, AM. Johri2, U. Jurt1, D. Brouillard1, M. Matangi1

 

- (1) Kingston Heart Clinic, Kingston, Canada (2) Queen's University, Kingston, Canada
Purpose. The purpose of this analysis was to determine the outcome with respect to cardiovascular mortality and morbidity of patients both with and without carotid plaque at baseline.
Methods. Our carotid database was searched. Only males 40-70 years and females 50-70 years were selected. Patients with a minimum of 1 year of follow up were included. Patients with diabetes or taking a Statin at baseline were excluded. Patients with a history of any prior vascular event were also excluded. Only the first carotid examination was used. Patients or their surviving relatives were contacted by phone and any vascular events were confirmed by reviewing local hospital records, office records or coroner's records. As patients often had multiple vascular events only the time to first vascular event was used in this analysis. In the case of cardiovascular death time to death was used as the only endpoint. A normal carotid at baseline was defined as the absence of carotid plaque using the ARIC definition and a maximal CCA IMT of <1.00mm. Patients were followed for a mean of 3.7 years (range 1-8 years).
Results. Follow up was possible and completed in 90% of patients, numbering 1,449. There were 2 events in the 357 normal carotids and 64 events in 1092 abnormal carotids. See figure 1. In the normal carotid group there was 1 MI and 1 CABG. In the abnormal group there were 6 cardiovascular deaths, 7 MIs, 21 CABGs, 17 PCIs, 3 strokes, 3 carotid endarterectomies, 3 AAA repairs, 3 peripheral angioplasties and 1 ICD implant.
Conclusions. A normal carotid at baseline is associated with a very low cardiac event rate (0.15%/year) and in our cohort no cardiovascular deaths. An abnormal carotid is associated with a 10 fold increase (1.54%/year) in cardiovascular events including cardiovascular mortality.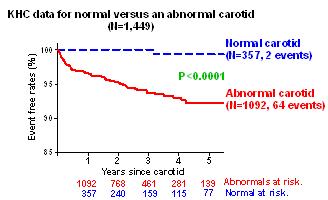 Figure 1.